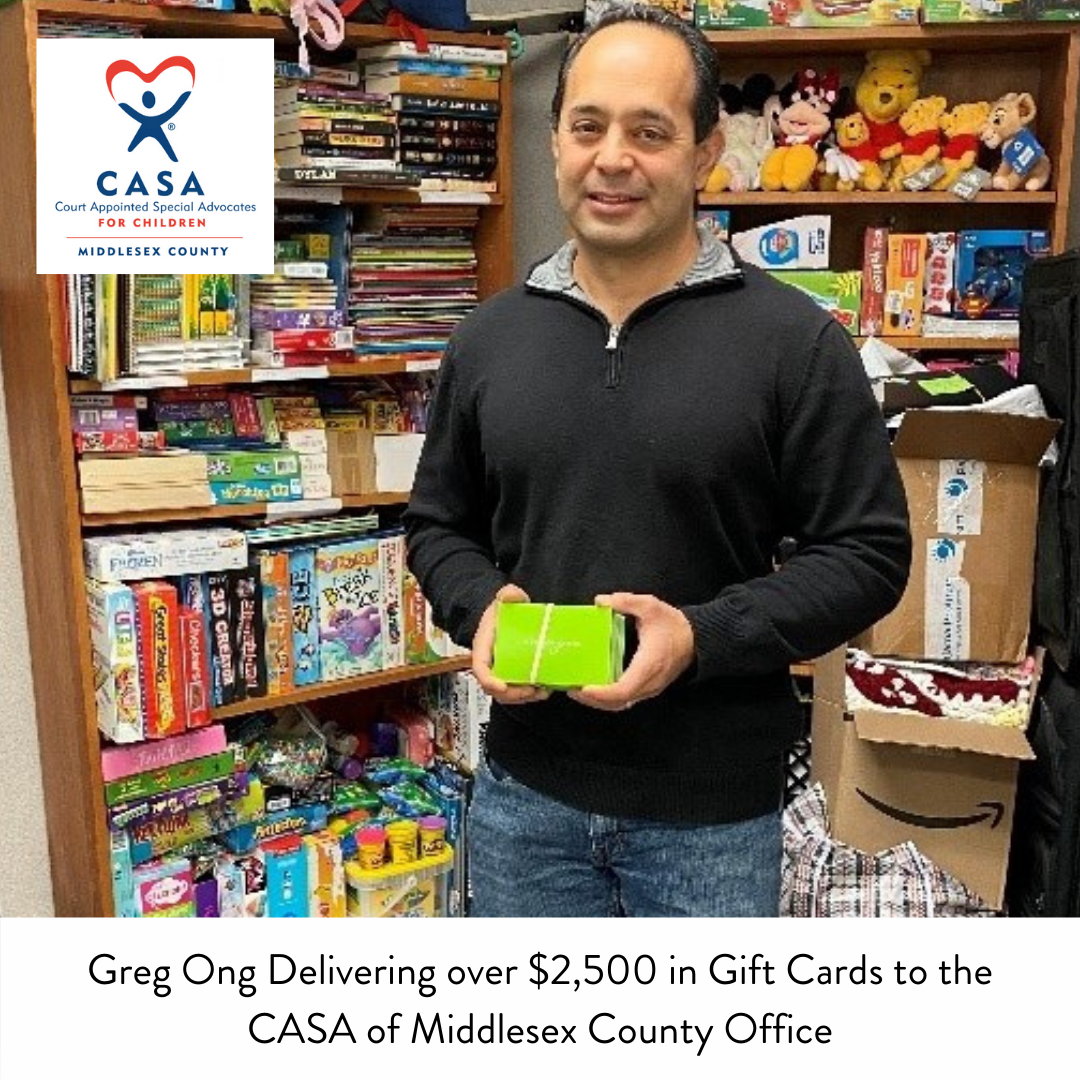 This holiday season the Ong family of Old Bridge donated a $50 gift card to every youth aged 12 and up who has a Court Appointed Special Advocate (CASA)--a total value of over $2,500--so kids who have faced abuse or neglect can have a happier season.
CASA advocates for children and youth who have been removed from their homes due to abuse or neglect. Many of these youth feel like they have no control over their lives; they rarely get to make choices for themselves about what they want and need. For these youth, a $50 gift card is more than just a fun holiday gift; it is a way for them to take back some of their own agency by deciding what they want and need.
Isabella and Nicholas Ong, youth themselves, know how meaningful this can be. The Ong family had contributed to Toys for Tots each year since the two were in preschool. "It was fun for them of course, going to the toy store and picking out a bunch of toys. I would let my son pick out toys for boys for all ages...under 3, 5, 7, 9, 12, and my daughter would do the same for girls," said Greg Ong, father of Isabella and Nicholas.
"As they grew older", continued Greg, "they recognized that Toys for Tots was for young children, and they wondered who bought gifts for older kids...teenagers who needed holiday gifts. Knowing how well-established Toys for Tots is, Isabella asked if we could buy for teenagers, so I did a little searching online, came across CASA, and found out that there was an unmet need. With guidance from CASA, we landed on gift cards since it seemed like it was very important for teenagers to have choice (understandably!) rather than just receiving something random that they did not want or need."
The Ong family has been donating gift cards to CASA youth for the past three years, ever since young Isabella recognized the unmet need. "I am thankful that my daughter, a pre-teen at the time, asked me to go with the underserved teen population, and I am thankful to my son who contributed with his own money last year and tripled his contribution this year." In addition to the gift cards, the Ong family is helping to fulfill a wish list for the CASA children. "My wife, Nicole, asked what else we could do, having heard how so many of these kids in CASA's system lack some of the basics...and recognizing how difficult times are especially this year, we are glad that we were able to help fill out the wish list as well. We know that so many kids have so little, and that what may seem small to us (a gift card, a sweat shirt, arts and crafts, etc.), can mean so much to kids who have been subjected to very bad circumstances at a young age."
On any given day in New Jersey, around 45,000 child victims of abuse or neglect are receiving help from the child welfare system. About 4,500 of these children have been removed from their homes to become part of an overburdened family court system. Last year, CASA had resources to serve 157 of the several hundred children in need in Middlesex County.
Unfortunately, many children in foster care have little stability in their lives. They may experience changes with family connections, homes, schools, friends, and even caseworkers. A CASA volunteer may be their only constant while in foster care. Many children without CASAs are left trying to navigate their way through the system as one of thousands, only having their basic needs met, until they are permanently placed in a home or age out of the foster care system. 
Help give the gift of advocacy to a child in need this holiday season by donating to CASA of Middlesex County at casaofmiddlesexcounty.org/donate.
With your help we can train more advocates and speak up for more children.